As a Marine Planner I am also passionate about our marine environment and recently volunteered in the launch of a new initiative which aims to clean up and protect the coastal habitats in Torbay, Devon. Torbay Cleaner Coast Initiative's main objectives are to prevent and reduce marine litter pollution in Torbay and its impact on marine organisms, habitats, public health and safety as well as reduce the socioeconomic costs it causes.
Removing litter from the marine environment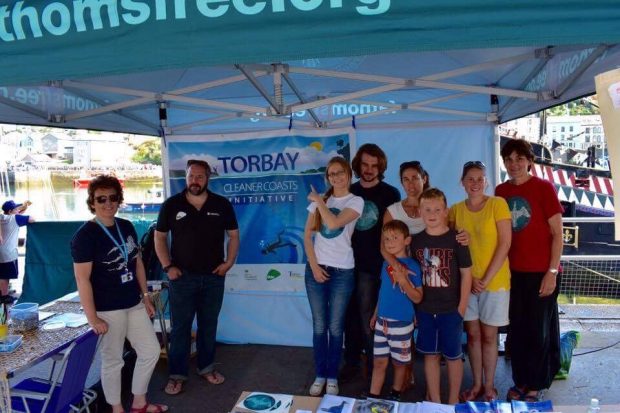 The initiative will adopt a multi-faceted approach to tackling the issues. The project partners will aim to remove litter from the marine environment where practical and feasible by:
organising ghost gear retrieval dives and from the coastal area
through beach and coastal cleans in and around Torbay
They will work towards enhancing knowledge and awareness of marine litter, by raising awareness and producing educational materials and opportunities to engage with local communities. Marine users will be supported in litter reduction by highlighting and promoting use of environmentally friendly alternatives, sustainable practices and recycling options.
Project partners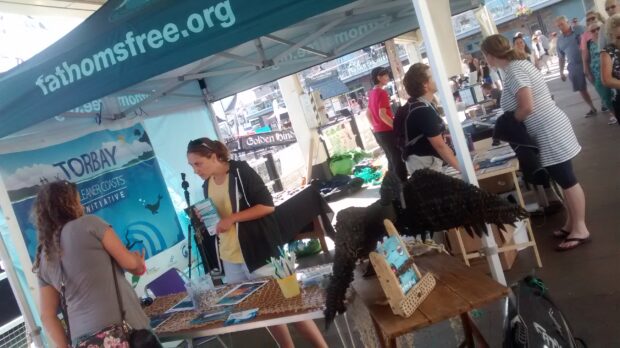 This initiative was formed by the following organisations: Fathoms Free, Tide Torbay, Living Coasts, Community Seagrass Initiative, Marine Management Organisation, Torbay Harbour Office, Torbay Council, Torbay Coast and Countryside Trust, Nautilus Dive Charters and British Divers Marine Life Rescue. This unique partnership between environmental charities, local authorities and commercial operators means that each brings their own perspective and capabilities, united in their passion for protecting the marine environment from the issues it faces from marine litter.
Clean-up events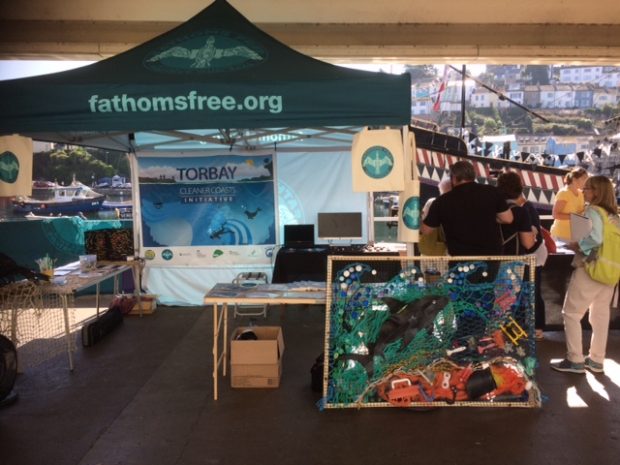 The initiative had its first in the series of planned clean-up events take place on 19 August 2017 on Hope's Nose, a popular angling spot off Torquay. Volunteer divers from Fathoms Free, supported by Warwick Saunders of Nautilus Dive Charters and his vessel Argonaut, conducted 2 ghost gear retrieval dives during which they retrieved a ton sack of matted monofilament line, hooks, lead weights and broken fishing rods, as well as general rubbish such as bottles and cans. Numerous marine animals were freed by the divers including a cat shark, common crabs, spider crabs and lobsters.
The event was also attended by Duncan Kenny from conservation charity Tide, who was able to engage with the anglers and public on Hope's Nose, and took photographs of the activities and the area. Being present on both land and sea give the initiative an advantage which will allow it to approach issues at multiple angles for a maximum impact.
Official launch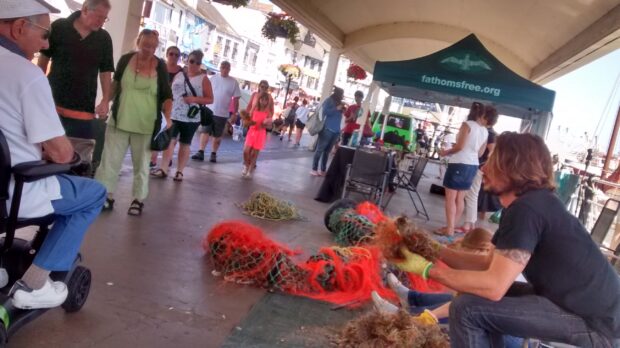 Torbay Cleaner Coasts Initiative was then officially launched on Sunday 27 August 2017 at the Old Fish Market in Brixham. The weather was on our side: the clear blue sky and warm sunshine meant the town centre was busy with holiday makers exploring the town and local residents out on a stroll. A pod of dolphins that appeared in the harbour initially stole the public's attention; eventually it moved on, spooked by a seal, and this is when we got our chance to engage with the public.
In the shade of the Old Fish Market canopy, passers-by were able to chat to Clare (Living Coasts), Warwick (Nautilus Dive Charters), Kate (BDMLR), Duncan (Tide) and Peter Glanville who flagged up the issue at Hope's Nose in the first instance. The interpretation materials on the stand included leaflets with helpful tips on sustainable fishing and marine recreation, WiSe code of conduct for boat operators and an educational book Sullie the Seagull for kids.
Nearby, Fathoms Free volunteers Zillah, Rob and Natallia hand sorted the ghost gear retrieved from Hope's Nose a week before in full view of the public. This raised a lot of interest from the passers-by – people were shocked to see the extent of the problem and wanted to know more! We had a few conversations with local anglers and fishermen who, on learning about our project, expressed support for our work and donated towards further clean ups. Another group who expressed interest were local divers, one of whom lent us a hand sorting the smelly matted pile of monofilament angling line. A fair few local residents signed up as volunteers for the initiative.
Young visitors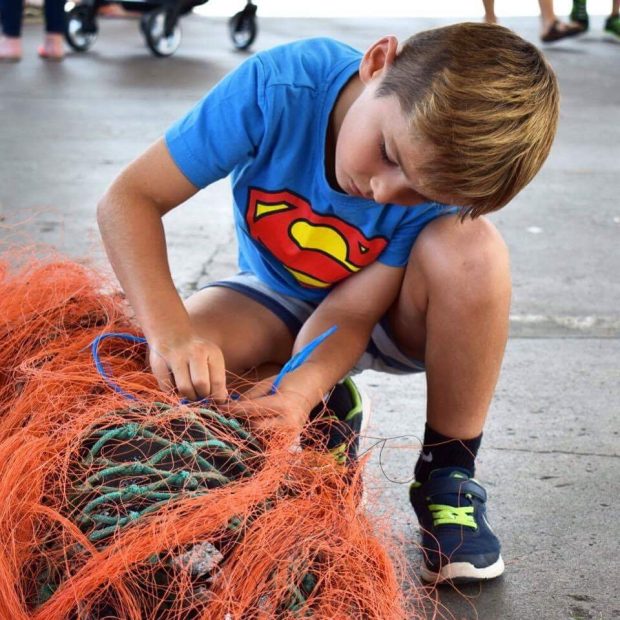 I aimed to engage young visitors in fun learning, by challenging them to untangle a ball of recovered rope, and to use it to decorate Dugal the Marine Monster. Other pieces of marine debris art were on show as examples of how seemingly useless litter can be up-cycled for art and awareness purposes.
Support
Fathoms Free founder Rob Thompson stated that:
"The support the Marine Management Organisation has offered this project has been invaluable. From our first retrieval last summer the MMO's local and national officers have all been keen to support our ghost gear recover project on Hopes Nose. Advice from the MMO Licensing department was comprehensive and considered all aspects of the project to ensure the project had the greatest environmental benefits.
After seeing the video of our first retrieval at Hopes Nose members of the local MMO office in Brixham were keen to get involved on the ground and take a proactive role with a subject they also feel passionate about. Two local MMO officers joined Fathoms Free and our other project partners for a meeting during the Brixham Marine Awareness day in June this year.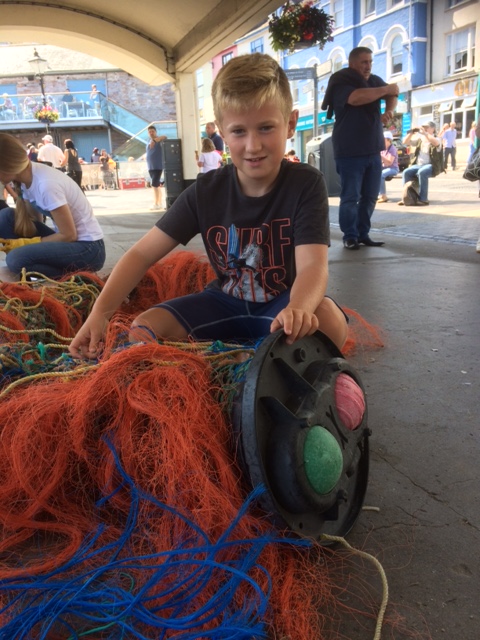 Here we discussed the concept of creating the Torbay Cleaner Coasts Initiative. MMO officer Jess Churchill-Bissett and her family then joined the launch of the Torbay Cleaner Coasts Initiative as a volunteer on the August bank holiday weekend. During the event Jess played a vital role in talking with the public, fishermen and divers and is clearly a complete natural at engaging with the younger generation by helping them create a marine monster made from ghost gear.
The project as a whole really is a perfect example of charities, organisations, individuals, businesses and government organisations all pulling together to tackle a major threat to marine life. We still have a lot of work to do, but we are all really enthused by the momentum this project is already gathering and the launch event was about the best start anyone could hope for."
Keep up to date
Torbay Cleaner Coasts Initiative are looking forward to announcing further clean-ups and awareness events and to give Torbay residents an opportunity to volunteer to help protect this stunning coast. Please like and share our Facebook page to keep up to date with news and events and to spread awareness of the initiative.