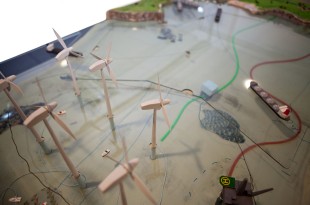 Marine planning is a real milestone for our seas, but explaining how a plan impacts on everyday activities in the marine area can be a challenge.
We needed to be able to show the complex and changeable nature of our seas and how they can be influenced through planning; it's not only about the waves on the top that we can all see from our favourite beaches, but also the water column in the middle that has the capacity to generate renewable energy, and the seabed at the bottom that provides habitats for thousands of living species and even the resources that lie hidden further beneath the seabed.
To bring this to life, we created a marine planning model that helps anyone interested in planning better understand the many different activities and resources (fishing boats, cargo ships, telecommunications cables, shipwrecks popular with divers, yachts, oil and gas extraction, aggregates and many others) and how they interact. All the different pieces can be moved around to create different scenarios to understand how they affect one another.
It's proven to be very popular at all of our events, including activities across the East plan area and especially our public drop-in sessions, which were attended by more than 600 people. It gives people a chance to be in the planning 'hot seat', and see how they could manage the many competing demands on our seas. It sparked a lot of discussion as everyone had different ideas on how best to place all the pieces in the puzzle.
For us at the MMO, it's all about fitting the right pieces in the right places, and at the right time. We listen to as many views as possible, and consider available evidence for any given activity and how it interacts with other uses.
We also created our short animation film on planning – just over three minutes long – to help bring marine plans to life.
We would love to hear any other ideas or questions you may have on marine planning and how it affects you. You can join the #marineplanning conversation by following us @The_MMO.