In February 2018 we discussed production of marine plans in the North West and South East, explained our marine licensing role in developments which hit the headlines and provided guidance on commercial fishing. We also updated senior Government figures on the progress of our work to protect the oceans around UK Overseas Territories.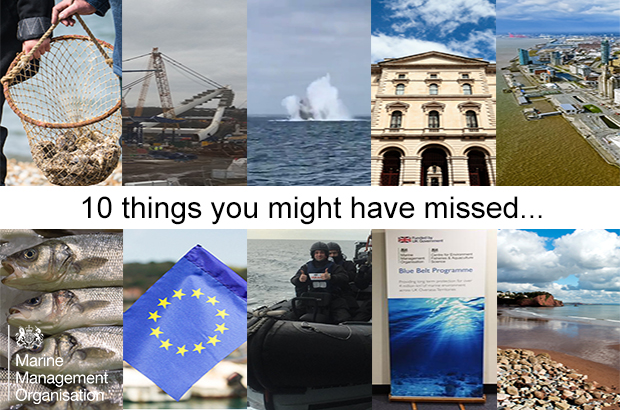 Fisheries
We issued guidance on fishing for bass in 2018, for both recreational and commercial fishermen. Commercial fishing for bass in any restricted area is prohibited during February and March 2018.
We answered some more common questions about commercial fishing in a blog post – this time covering fishing vessel licences, monitoring of fishing activity and UK fishing ports. In addition the Parliamentary Office of Science and Technology published a briefing on fisheries management, which we were involved in production of.
The team on HMS Mersey, a Royal Navy fisheries protection vessel, posted a number of pictures of them carrying out their enforcement work for the MMO on Twitter (@hms_mersey). Learn more about their work in a 'behind-the-scenes' article by Fishing News.
Marine licensing
Sunderland's Northern Spire Bridge was visited by the Duke and Duchess of Cambridge as it nears completion. The MMO originally approved a marine licence application in 2010 for development in the River Wear. We explained this in an earlier blog post.
Following discovery of a WWII bomb in the Thames near London City Airport we explained our remit around removal of unexploded ordnance, in particular as part of windfarm construction on the South East coast.
We announced our suspension of a marine licence while we continue to work with other agencies to look into concerns. This relates to the disposal of dredged material from Exmouth Marina at the Sprey Point disposal site, off the coast of Teignmouth, Devon.
We provided an update on our investigation into alleged marine licensing offences to do with an oyster farm in Whitstable, Kent.
Marine planning
The marine planning team held engagement events in the North West and South East. These allowed people to check development towards marine plans for their area. More sessions are due to take place in the South West and North East. You can give us your views online too.
Blue Belt
The Blue Belt programme team took delivery of a new display banner made of bamboo and post-consumer recycled polyester yarn. They will use this at conferences, events and stakeholder meetings.
Representatives from the MMO working on the Blue Belt programme presented an update to Lord Ahmad, the Foreign and Commonwealth Office Minister for the Commonwealth and UN and stakeholders from across the Overseas Territories.
Find out more about the work of the MMO