We're halfway through our iteration 2 consultation workshops for Marine Planning. Find out what happened in the North West and South East and what is still to come for the South West and North East.

North West
The workshops kicked off on 7 February in Whitehaven, Cumbria at the Beacon Museum, which provided panoramic views of the local harbour.
This was a really positive session and discussions on the marine planning vision for the North West were engaging and informative. The options stage is complex and there was a desire this stage to be communicated in the most dynamic way possible.
The following day we moved on to Liverpool at the Adelphi Hotel. There was a good mix of existing and new stakeholders with positive relationship building and networking throughout the day.
With an eye on promoting compatibility of marine and terrestrial planning, the discussions with Local Authority planners, who have considerable experience of options, were particularly useful
The invaluable support of the Solway Firth Partnership and the North West Coastal Forum in co-chairing and facilitating these two events is really appreciated.
South East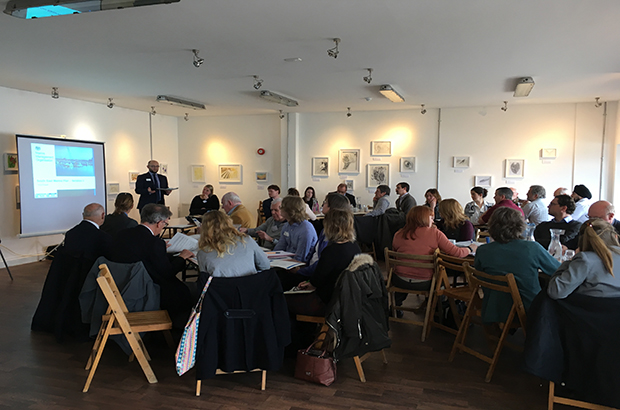 The workshops continued on 21 February in Chatham, Kent at Sun Pier House on the banks of the River Medway. On a misty morning our first delegates arrived by boat, mooring just outside the venue before heading inside. A marine planning first!
There was a really good turnout including some who were new to marine planning. This led to a really productive discussion with many insightful questions being asked.
The following day we arrived in London at The Wesley, Euston.
We had a great turnout with lots of representatives from local authorities. We explained the options and received good feedback on how we presented these.
We were supported brilliantly on both days by representatives from the Thames Estuary Partnership who co-chaired and facilitated.
What's happening next?
The feedback from all events so far has been very positive.
This week we move on to the South West with workshops in Newquay (6 March), Plymouth (7 March) and Weston-super-Mare (8 March). Find out more about marine planning in the South West.
We then visit the North East with trips to Seahouses (20 March), Newcastle (21 March) and Middlesbrough (22 March). Find out more about marine planning in the North East.
If you would like to attend any of these events you can sign up now. Please note the Plymouth and Weston-super-Mare events are now sold out.
If you can't attend the events but want to get involved you can have your say online.
To sign up to receive marine planning updates and our newsletter please email us with the word Subscribe to planning@marinemanagement.org.uk.