The MMO's involvement in the Thames Tideway Tunnel project represents a new approach, not only in how we work with marine licensing applicants but also in some of the methods being used to construct the development.

Nationally significant infrastructure project
The multi-billion pound Thames Tideway Tunnel development is a 25 km (16 mile) tunnel running mostly under the tidal section of the River Thames through central London. Delivered by an independent utility company, Tideway, the tunnel will help upgrade London's Victorian sewage system, which currently overflows into the river when it rains.
The development is relevant to the MMO as our work in regulating development in the marine area includes tidal areas of rivers, such as in the Thames.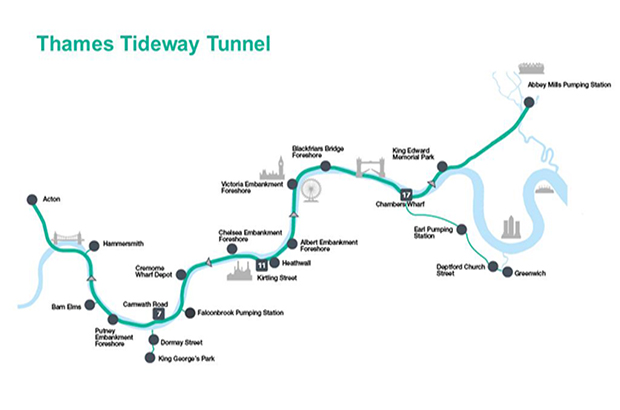 New ways of working
Government consent for the development was originally granted in September 2014. However a number of individual elements of its construction are covered by the MMO's marine licensing remit, which will require a large number of approvals from the MMO over next five years.
Where we work with marine licensing applicants on a frequent basis we welcome opportunities to learn more about how they work, their industries and the issues facing them. Building productive relationships means we can provide services and advice which meets their needs.
For the first time the MMO has embedded a marine licensing presence to work in-house alongside the Tideway team. Doing so offers early opportunities for the MMO to inform designers, engineers and other regulators of the requirements of the Marine and Coastal Access Act 2009 and other relevant regulations.  The Environment Agency has taken the same approach, which it had previously used for the Olympic Park.
Innovation and legacy
As part of this close working the MMO welcomed Paul Morris, Tideway's Head of Innovation to our offices in Newcastle in early September.
Paul met with members of the marine licensing team and talked to them about the development and the benefits of innovation for mega-infrastructure projects. He explained their ambition of creating a sustainable legacy by sharing new solutions to problems which may be of benefit to the wider construction and engineering industries in the future. He also gave examples including how Tideway is piloting emerging technologies including virtual reality in design.
Chris Turner, marine licensing case officer, attended the session. He said:
"I thought being able to learn more about emerging methods of construction and engineering was really beneficial. It's good to have advanced knowledge of how industries may change in future.
"Hearing how the use of drones, VR and other technologies are now being practically implemented also appealed to my personal interest in technology.
"I believe the key message about continually striving to improve the way things are done is really relevant to ensuring we continue to deliver on our goals as a regulator."
Paul said:
"I really enjoyed my visit to the MMO and was genuinely pleased to see so many interested colleagues in attendance. I look forward to engaging with MMO throughout construction and sharing our solutions as a demonstration of our approach to collaboration and, ultimately, an industry legacy of innovation."
Learn more:
This video shows Tideway construction activities during summer 2016, including piling works at Blackfriars licensed by the MMO:
Tideway timelapse delivery progress August 2016 from Tideway.