Please provide your views in our call for evidence on the assessment of five marine protected areas in England – open until 15 December.
The management of our coastal waters plays an important role in protecting and conserving our marine ecosystems. The Marine Conservation Team at the MMO are responsible for the implementation of management in certain marine protected areas (MPA) in English waters.
We will be writing a series of blog posts explaining what and how we manage these MPAs, starting at the beginning, with what is an MPA? In the upcoming posts we will look into what the MMO does to protect some of these sites, by putting in management. We will look at how we decide which sites need management and highlight some management we have in place already. We will also focus on how we work with other stakeholders who are also responsible for managing the seas around the England.
What is an MPA?
MPA or marine protected area, is a collective term used to describe a protected area with a marine component. This term is used frequently and covers a variety of sites such as European marine sites (EMS), marine conservation zones (MCZ), special areas of conservation (SAC), special protection areas (SPA) and of course Ramsar sites.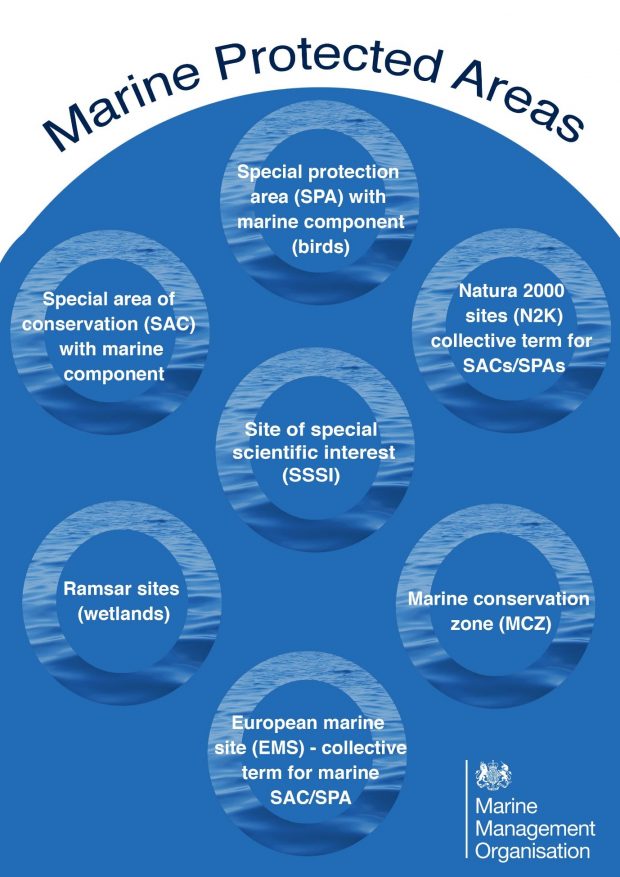 The UK waters are abundant with designations, each being designated for a different reason and affording different types of protection for the site. It just shows how incredible and diverse the marine environment is around our wonderful coast.
What are EMSs?
EMS collectively describes any SAC or SPA with a marine component. They protect some of our most important marine and coastal habitats and species of European importance. In England EMSs are designated ('classified' for SPAs) under the Conservation of Habitats and Species Regulations 2017 and the Conservation of Offshore Marine Habitats and Species Regulations 2017. These sites will continue to receive protection after the end of the EU transition period on 31 December 2020.
SACs contain animals, plants and habitats that are considered rare, special or threatened within Europe.
There are 656 SACs currently in the UK, covering 134,851km2, which is bigger than the area of all of Greece including the islands.
SPAs are conservation areas concerned with the protection of important bird species.
There are 275 SPAs currently in the UK covering 37,607 km2, which is bigger than the area of Taiwan.
What are Ramsar sites?
A Ramsar site is a wetland sites which is designated as an internationally important area under the Ramsar Convention. The Ramsar Convention also known as the Wetlands Convention is an international treaty established in 1971 by UNESCO in Ramsar, Iran, it came into force in 1975. As of 2016, there were 169 national governments working together in protecting and designating Ramsar sites, a network of 2,231 sites worldwide. In England, there are 73 Ramsar sites covering an area of 4,112km2 or an area almost the size of French Polynesia.
What are MCZs?
MCZs are national MPAs, designated and protected through the Marine and Coastal Access Act 2009 (the same piece of legislation which created the MMO). MCZs protect nationally significant features, which can include wildlife, habitat, geology and geomorphology. MCZs also take into account socio-economic factors, unlike European or international MPAs.
There are 91 MCZs in waters around England; covering an area pf 32,090km2 which is an area bigger than Belgium.
MCZ designations were undertaken in three rounds, or tranches to complete the network around English waters;
Tranche 1 (27 sites) designated 21 November 2013.
Tranche 2 (23 sites) designated 17 January 2016.
Tranche 3 (41 sites and 12 additional features) designated 31 May 2019.
The Marine Conservation Team at the Marine Management Organisation are building up their stakeholder contacts database. If you are interested in being contacted by the Marine Conservation Team regarding Marine Protected Areas in England, please contact them with the text below via conservation@marinemanagement.org.uk. Please use the email subject 'Contact me'.
"I give my permission to be contacted by the Marine Conservation Team at the Marine Management Organisation regarding Marine Protected Areas in England.
In particular, I am interested in [please detail MPAs, activities etc.]
[Insert full name and organisation]"