In 2017 a number of organisations got together to tackle the marine litter problem in Torbay. As a result, the Torbay Cleaner Coasts Initiative (TCCI) was formed. This small charity comprises of representatives from organisations such as the Marine Management Organisation, Torbay Council, Torbay Harbour Authority, Torbay Coast & Countryside Trust, Living Coasts, Fathoms Free, Tide, Keep Britain Tidy, The Marine Conservation Society and Nautilus Dive Charters. They all share a common vision to work collectively to improve the marine and coastal environment within Torbay.
TCCI has three main objectives:
Removing marine litter from the sea and coastline.
Raising awareness, supporting and promoting engagement within local marine and coastal user communities to reduce marine litter.
Promoting environmentally friendly and sustainable practices, including disposal and recycling alternatives, through community information and education opportunities.
Since their formation in August 2017 they have removed over 4.5 tonnes of marine litter from the Torbay coastline. This has been achieved by an amazing response from the community offering to volunteer their time and muscle for the cause. TCCI have seen increasing engagement across the bay from enthusiastic residents wanting to help TCCI achieve a cleaner bay. Torbay is wonderful in its community spirit and the residents really take ownership and pride in where they live.
TCCI brings the community together with action whilst providing that important link between the community and authority. By offering to lessen the logistic and bureaucratic tasks, TCCI can set up projects that enable the community to get on with the work and make a real difference.
From the 4.5 tonnes of marine litter removed in Torbay, TCCI have seen an even spread of domestic litter and commercial fishing litter. What is clear is that we all have role to play in reducing what we discard and how we process our waste products. Almost all the waste removed by TCCI is plastic. A large portion of this can be recycled.
TCCI are working with Torbay's fishing community on projects to maximise the potential for recycling of used/discarded nets. The Torbay fishing community wholeheartedly support the 'Fishing for Litter Campaign' and TCCI have seen large volumes of marine litter landed in Brixham from fishing vessels in recent months.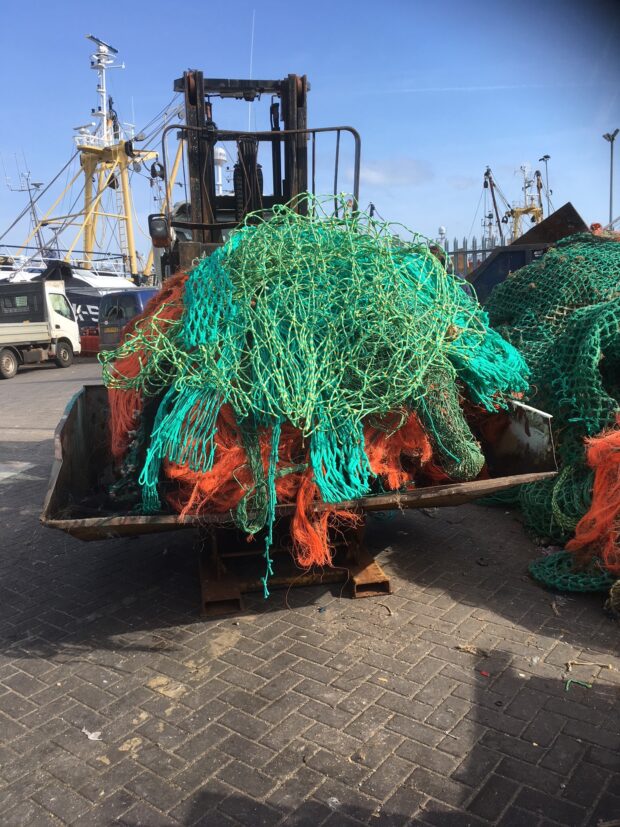 TCCI are currently working with the marine debris charity Fathoms Free who realised a long-term goal in May 2018. With support from Torbay Cleaner Coast Initiative, local Harbour Authorities and the south west fishing industry they have managed to fill a large articulated lorry with old fishing net which was sent to be recycled back into plastic pellets. Unfortunately, the facility to recycle old nets does not yet exist in the UK and the lorry had to come all the way from the company 'Plastix Global' in Denmark to retrieve the waste for recycling - which it did free of charge.
These plastic pellets will then be used to produce sea kayaks, roof tiles and other items creating a circular economy from waste that would otherwise go to land fill.
Rob Thompson founder of Fathoms Free said:
"The idea came about from me trying to find a way of recycling the nets we were finding whilst diving and on beach cleans.  The plastic pellets recycled into kayaks will be used for litter picks to help clean up plastic in our seas."
The fishing industry has been amazing in its response to collect the old nets, retrieving them from stores, recycling from refits and even bringing ashore nets which they have trawled up at sea.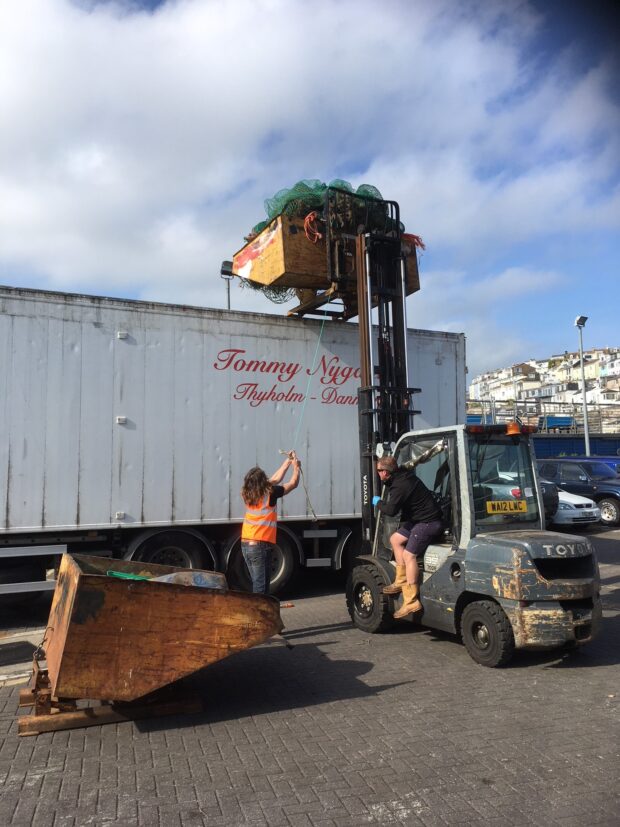 Filmed by the BBC for a follow up to the Blue Planet II effect, the groups rallied around for the last few weeks collecting nets and storing them at various pick up points around the south west, removing any remaining metal or rubber from the nets and getting the word out to as many of the south west fleet as possible.
Helen Lovell part of Torbay Cleaner Coasts Initiative and also Brixham Trawler Race committee said:
"These are the first steps in co-ordinating more opportunities for the fishing fleet to recycle their old nets, if successful there will be other collections on a regular basis.
"The fishing community are already involved in the Fishing For Litter scheme and do their bit to bring ashore their waste, including anything they trawl up whilst at sea, this provides them with another opportunity to recycle for free what they would otherwise have to pay to dispose of in landfill. It's a win-win!"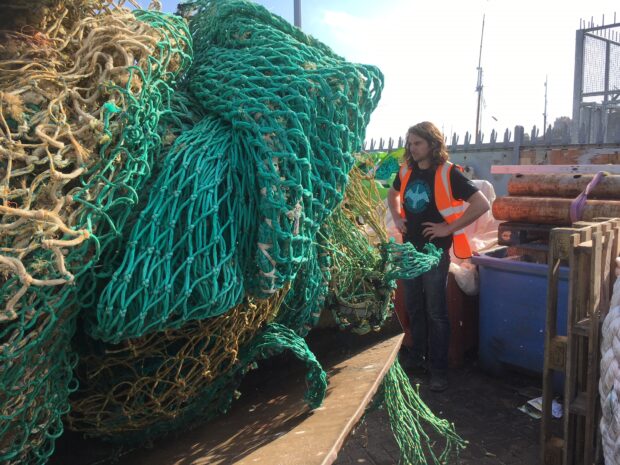 Due to the size of the UK fleet in the south west and visiting fishing boats, the south west peninsular has the largest amount of commercial fishing marine litter across the whole of England. Strategies and programs are required to support the industry to reduce and recycle as much waste as possible and continue to play a role in retrieving waste they find whilst fishing.
Fathoms Free and Torbay Cleaner Coasts Initiative would like to continue conversations with the industry to establish how this can best be achieved by working together.
TCCI would like to thank the Torbay fishing community, all their volunteers and partner organisations for an incredible effort so far. Together we can achieve great things!