I was excited when the 25 Year Environment Plan (25YEP) was launched by the Prime Minister in January. The plan sets out the government's long term commitment to enhance nature, increase stewardship and empower people to work together to achieve more for the environment in England. The reasoning behind this is that the natural environment is the basis of people's health, wellbeing and prosperity! Making this connection explicit in people's minds and activities is a big progression. I can feel a change toward a new phase where people and nature are considered as a highly connected system which benefits and affects both in strong ways we all should take into consideration.
This is different to how we have thought about, interacted with, and especially how we have managed, the marine environment up to now. I feel lucky to be involved in exploring how to deliver some of these new approaches to managing. I am the programme lead for the Marine Pioneer which is one of four pioneer programmes set up by Defra and its delivery bodies to innovate delivery of the 25YEP.
The plan highlights how reliant on nature we are and agreeing our responsibilities toward it is a crucial job. This requires lots of people working together in partnership. The marine pioneer has two partnerships working in Suffolk and North Devon and involves policy, evidence and delivery people from all over the country. Here are some of the people already involved.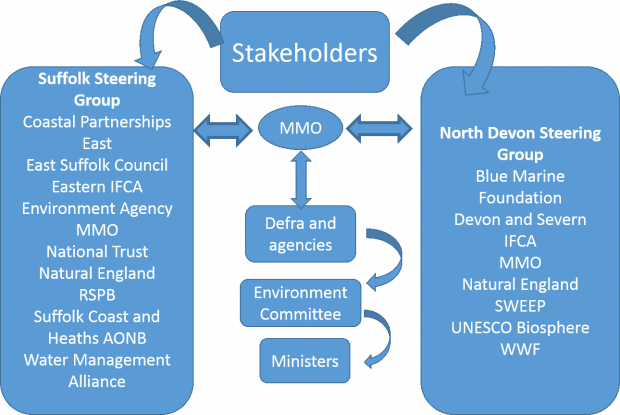 The MMO in collaboration with the Suffolk Coast and Heaths AONB  and North Devon UNESCO Biosphere partnerships are bringing together decision makers, stakeholders and experts to demonstrate new ways of managing and enhancing the environment for multiple benefits. The work in both North Devon and Suffolk focuses on demonstrating how nature is integral to our decision making. It is doing this through the lens of a natural capital approach, exploring how to get more joined up planning and delivery and investigating the opportunities for adapting sustainable finance mechanisms. It is exciting but challenging to work collectively and more like a system on this.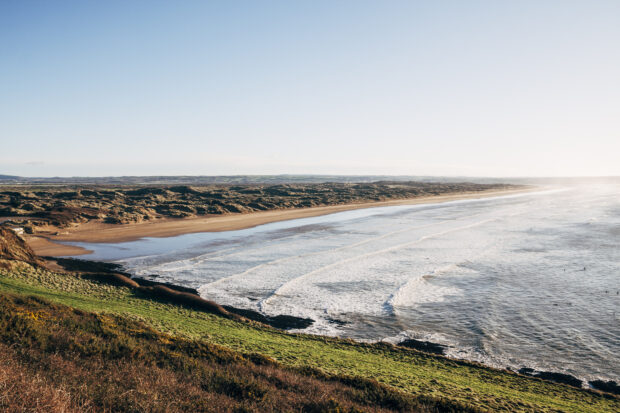 In North Devon we are collaborating with the Landscape Pioneer on net gain (enhancing rather than just maintaining nature) and integrated delivery, as well as engaging with coastal stakeholders to highlight our opportunities for investment in nature. We are benefitting from the South West Partnership for Environmental and Economic Prosperity   (SWEEP) academic work which is developing natural capital asset and risk registers (what resources are there and what are their condition). This helps to identify where investment is required as well as mapping the benefits and beneficiaries. SWEEP is also assisting decision makers realise enhancement by developing natural capital support tools.
There is a good collaboration with WWF through their UKSEAS project on marine protected areas (MPAs) in North Devon, including developing a governance toolkit, stakeholder mapping and analysis and sustainable funding options for governance. There are also several fisheries projects in development by Devon and Severn Inshore Fisheries and Conservation Authority (IFCA), the Biosphere team, the commercial fishing sector and the Blue Marine Foundation.
All this work will help to achieve the vision for North Devon's Biosphere marine area as well as providing lessons and advice for delivering the 25 YEP.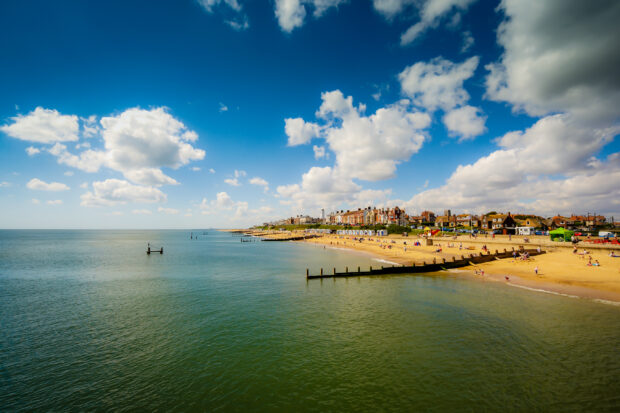 In Suffolk communities and local delivery and management bodies have long collaborated on management of the coast. Building on these relationships, the Marine Pioneer is applying a natural capital approach to saltmarsh management to illustrate how natural capital can be enhanced by communities for communities. The Suffolk coast is highly protected with many important places and features which together provide a substantial amount of natural resources to people and nature. Natural England and others are working within the pioneer to improve stewardship and develop new approaches to the use and management of protected areas.
We are benefitting greatly from having a dedicated financial expert from Coastal Partnerships East who is bringing a new perspective on opportunities for funding enhancement of natural capital with benefits for nature and people, particularly at Kessingland and Benacre in Suffolk. There is a huge amount of marine industry and activity off the Suffolk coast. The MMO is working with the Seabed Users Development Group (SUDG), communities and statutory advisors on a couple of demonstration projects to outline how to achieve net gain alongside development including recycling of natural materials to enhance biodiversity.
We are having a conference to talk about the work so far and get more insights from people on enhancement of natural capital, increasing stewardship across society and integrating delivery and planning. It is on the 28th of June and will be at the WWF's impressive Living Planet Centre just a 25 minute train journey from London in Woking.
You can find out more on what the marine pioneer is all about and read a document listing and describing all the demonstration projects on GOV.UK.
Please get in touch with me if you are interested in the pioneer aisling.lannin@marinemanagement.org.uk.