We were proud to welcome the suffrage flag to our Newcastle office on Monday 13 August, starting its journey around North East England as part of the UK civil service relay.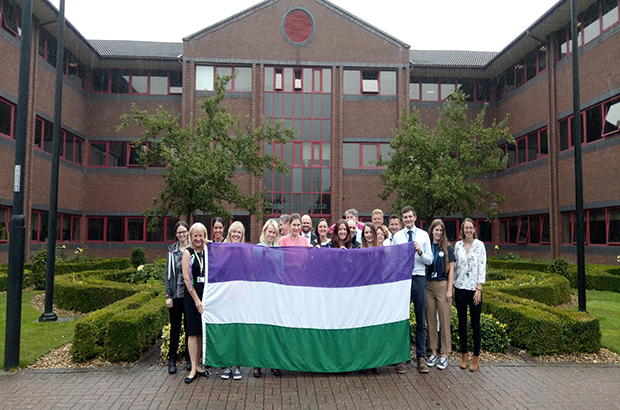 As part of celebrations to mark 100 years since women in the UK received the right to vote the UK civil service is taking part in a 44-week relay of the suffrage flag. The flag is travelling Government offices and organisations around the UK and initiating discussions about parliamentary and social history in the process.
On Monday 13 August we were honoured to welcome the suffrage flag to our Newcastle office, starting week 28 of the relay and beginning its travels through North East England. We passed the flag on to Department for Work and Pensions.
North East suffragette history
Our volunteers collected the flag from Scottish Government colleagues with the hand-over happening in Morpeth, Northumberland. This is a significant location in the history of the suffragette movement as it is where Emily Wilding Davison was buried – Davison died after being trampled on by the King's horse at the Epsom Derby in 1913.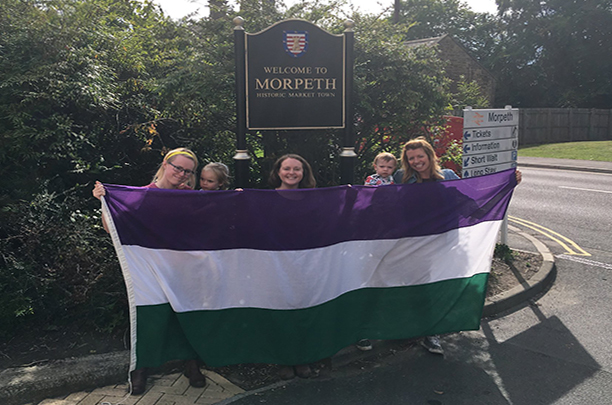 Discussing the centenary of women's suffrage
We displayed the flag along with artefacts related to political campaigning activity from late 1800 – early 1900. We also held a presentation about the flag's journey and the history of women and the vote.
Gender equality and the MMO women's network
The MMO's women's network also recently took part in an Equaliteas event. We held a discussion about gender equality and history, with similar sessions taking place around the country as part of the celebrations.
Two representatives from the MMO network have also taken part in the '100 years 100 women' project as part of the celebrations. They've each blogged about their role, history and personal views and motivations.
Hear more from Trudi, our director of marine licensing, and Jo, head of integrated marine management in the Blue belt programme team.
Follow the flag
You can find out where the flag is on its journey on Twitter - see #followtheflag and #suffrageflagrelay.
Follow us @The_MMO for more updates on our work.