This is the first in a series of EMFF Focus On's where we look at projects funded or in the process of being funded by EMFF and the benefits they are bringing to fisheries, industry, the public and communities.
Breathe life back into the North Devon fishing industry
Richard Spear, a joint owner of North Devon Trawlers Ltd (a company specifically set up to try and breathe life back into the North Devon fishing industry), needed financial assistance to refurbish the under 12 metre vessel The Sue Ellen.
The vessel was built in 1985 and it had been idle for some time. It was purchased by North Devon Trawlers in order to restore it and return it to the North Devon fishing fleet where it could provide employment for the crew and contribute to the local economy. The challenge was therefore to get it back to sea as soon as possible.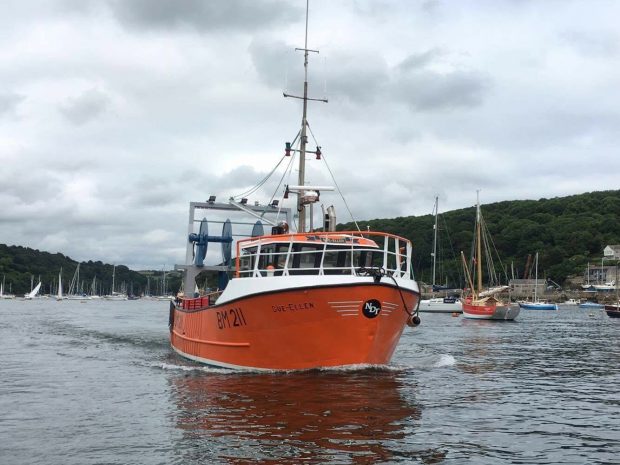 Safety improvement
Safety improvements need to the vessel included enhancements to the wheelhouse, deck, engine room, galley and accommodation. Mr Spear therefore applied to the Marine Management Organisation (MMO) for a total grant of £17,135. The application was considered by the MMO and approved allowing work to start. EMFF funding paid half of the cost of all improvements made to the Sue Ellen including: upgraded electronics, safety rails, a safety ladder, more effective lighting, a new generator, an upgraded engine room and new appliances.
The vessel has now regained its place in the North Devon fishing fleet as a safe and efficient under 12 metre boat.
Commenting on his experience of EMFF Mr Spear said:
"The investments made on our fishing vessel Sue Ellen have improved it vastly making it much safer and more comfortable for the people on board. In particular the deck lights mean the crew will be safer working in low light and the work below decks including the heating, galley and washing facilities has improved both the safety and working conditions of the vessel.
I would recommend the EMFF scheme to anyone thinking about making safety or other improvements to their vessels, the process was straightforward and it was simple to get the help and support I needed. I got 50% of the costs of the works and that made the difference between being able to do the work and not".
Opportunities
Vessel safety is just one of the many areas in which EMFF funding is available. Please visit the MMO website and learn more about the funding available under the EMFF scheme and apply online or contact us to find out more about how EMFF may be able to help you, your area or your business.
Please watch this space for your next "EMFF Focus on" which will be issued next month.